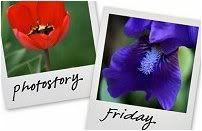 Hosted by Cecily and

MamaGeek
I talk a lot about my two legged kids. Ok, so maybe more than a lot. But I know I've mentioned the four legged babies at least a couple of times. This little mutt? That's my Molly-girl.
Molly was a stray we found, although the real story is that she found us. See, Molly was wandering around a property I was managing one day. She followed me into my office, and simply wouldn't leave my side.
I sat at my desk. Molly laid at my feet.
I walked to the back room. Molly trotted along after me.
I went to the bathroom. Molly sat outside the door and cried.
Well, no one claimed her by the time we closed the office for the day. We were all actually quite amazed. I mean, this poor little dog had obviously lived with someone who cared enough to take time with her. She had been recently groomed. She knew simple commands. She was most definitely housebroken. But, no collar. No one in the office wanted to just turn her loose, and for reasons we will never know, not one of us thought to call animal control that day. So Molly went home that night with one of my maintenance techs. I needed to talk Coach around. He needed to believe it was his idea for me to bring her home the next day if she was still at the office by the time I came home.
She was. And since STILL no one came looking for her that day, she came home with me. Where my guys all fell in love with her, and she with them.
Molly became our baby. Coach used to get home from work and she would literally jump up in his arms and he'd hold her like a little baby. Jock STILL cradles her in his arms. And she still follows me everywhere.
In fact, she's laying at my feet as I type.
And that big guy in this picture with her? That's her little brother. Kenai (key-nigh) joined our little family about a year and a half ago. And like his sister, he's a mutt. Also like Molly, he's a rescued dog.
Honestly? Everyone of us in this house has a mixed pedigree. Why should our dogs be any different?
*in case anyone wonders or cares, Molly is a Corgi/Terrier mix and Kenai is a Shepherd/Dane/Unknown Canine mix*