A couple weeks ago, Coach and I went into our local Wal-Mart. This one has only been here for about 6 months or so, but its the ONLY one in a ten mile radius. And its OUR Wal-Mart. The city we live in, that is. Our town really isn't such a huge, thriving Metropolis; but its getting there. And from the day we discovered that this new construction site was going to be a Wal-Mart, we've been suggesting to the
Powers That Be
that maybe they should make sure to carry some apparel for the local high school. The other Valley Wal-Marts carry stuff to support whatever high school feeds the area they're in, and we really wanted some shirts and jackets for our high school. We're supplying it with a couple of students, after all.
Anyway, our local store has NOT carried any high school apparel. At all. Until a couple of weeks ago when Coach and I walked in and noticed something incredibly disturbing. On the one hand, they now had a high school clothing display. However, it was for ..... DUN DUN DUN..... our BIGGEST RIVAL.
That's right. Not a single item to be found ... anywhere ... for our local school. The school that is literally less than two miles down the road. The school that supplies the largest percentage of this store's work force, between the students and the parents. The school that this same store has donated a bunch of money to. This store, in all the infinite wisdom that the supply manager must certainly have to have in abundance, decided NOT to stock clothing aimed at their core clientele. Oh no. They chose, instead, to slap us all in the face with our rivals.
Well, Coach and I were not going to stand quietly by and accept that calmly. We had the store manager called over. And we proceeded to explain just what was so offensive about this display. Then we asked that they reconsider stocking some clothing with OUR school's logo. After all, this was OUR Wal-Mart, right? We didn't even insist that they do anything with the rival school's stuff. Just carry something that would actually sell, would'ya??
So when the manager called over a couple of stockers
(is there another word for them? That one just sounds rather creepy....)
and had them start taking down the display, Right.NOW.... we were thrilled!
And when, last weekend as Coach and I were once again walking through the store, we saw this:
Well.... I am a little embarrassed to admit that I sort of squealed
OHMYGOD....is that PURPLE I see??
and ran over to the display. And YES! It was PURPLE! And GOLD! Our school colors! Our school mascot! WooHOO!!!
Cost of the hoodie: $25.
Having my teenage son tell all of his friends how his parents totally ROCK for getting this to happen?
Priceless.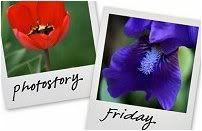 Hosted by Cecily and MamaGeek