*no, we are NOT the Rams. Our home field was being seeded this week, so we had to borrow a neighboring military academy's field. We still won the game, and yes, that was our final score.*
My night ended with me hugging, quite tightly, an incredibly sweaty, smelly teenage boy. (Actually, I think I hugged two of them. The one NOT related to me was quite understanding of the entire thing.) While I cried silly, senseless mom-tears. My hands were shaking. I couldn't stop smiling. I'd let go of him just to throw my arms, once again, around the part of his neck I could actually reach over those shoulder pads. And I just squeezed his sweaty head against my cheek.
My mother in law had to pick a couple blades of grass off, I believe.
The night began with the worry that he once again wouldn't get to play much. And honestly, he never gets his shot at defense, which is where he's wanted to be from the beginning. So when they put him out there, I wasn't expecting them to leave him out there for more than a play or two.
But then..... then he did something no one else on this team has done before. This same group of boys didn't manage to do this last year, either. (And I'm just sick over the fact that I didn't get video of this one, let me tell you!) My boy....my incredibly talented, making the most of his opportunities boy..... blocked a punt. And he just kept making amazing plays, one after the other. He followed the blocked punt up with an offensive run of over 60 yards to catch up to the receiver, make an absolutely amazing block that literally lifted the defender off his feet and threw him several feet away, thereby enabling our receiver to run into the end zone. This one actually prompted one of the VARSITY coaches to go up to the announcer's box, where we then heard the announcer say: Coach Toolman (*not his real name*) would like everyone in the stands to give an extra huge round of applause to #58, Jock Athlete, for that amazing block out there!
I am always amazed by my son, you know that. I am always impressed by the way he plays, and the way he acts, you know that as well. And so it never surprises me to see him perform random acts of exemplary sportsmanship.
He continues to bust his butt every week out there for these coaches, for this team, because he loves the sport. He doesn't just love to play, he loves to play hard and leave it all on the field. He plays with his heart, and he's fortunate enough to have the talent to back that up. And now? Now I know the coaches have noticed that. (Ok, ok.. now JOCK knows the coaches have noticed. Sheesh, people.) Wanna know how I know?
WE GET TO BE ON THE FIELD, UNDER THOSE BEAUTIFUL FRIDAY NIGHT LIGHTS TOMORROW!!!
So I cried. My hands shook. I launched myself at him, squeezing the life out of him. (He was heard at one point saying, "Mom, can I please breathe now?" into my hair. Yeah, I was squeezing that hard. Sue me.) His friend and teammate, who also is being pulled up for tomorrow's Varsity game, happened over to congratulate Jock, and he got himself hugged by me as well. And then I just had to squeeze my son again, holding his sweaty head tight against my cheek.
And my mother in law picked off a couple of blades of grass.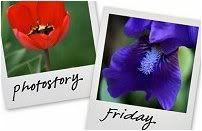 Hosted by Cecily and MamaGeek