A little boy's fort is a wonderful land of make-believe. A place where military battles are waged and fantasy football games are won. A place where scary stories are told and castles with dragon-filled towers and alligator infested moats are considered prime real estate. A place where you can climb the highest mountain, swim the widest ocean and drive the fasted car.
Bug was so excited the other night while I was at a Little League meeting, that he called me to find out when I'd be home. He had "the coolest fort EVER, Mom!" to show me. So I told him to leave it up, and I'd take a look when I got home, which would be in about an hour. An eternity for a ten year old boy, so I was amazed when he didn't call me at least three more times.
When I did finally get home, I expected that fort to be in his room, where the construction site generally is. But no! Dad had actually let the construction "crew" build on a plot of land considered even more prime than that. This fort was in the living room. Right in front of the front door! I took a moment to be thankful that we got our automatic garage door opener fixed this weekend and I no longer had to enter the house through the front door, and the proceeded to marvel over how awesome this fort was! It was HUGE! It looked so ROOMY! WOW... look at how many blankets, bar stools and kitchen chairs it took! And then, like any good mom would do, I got out the camera.
And then I decided that what we really needed evidence of was inside that fort. After all, how many chances do you get to witness first hand an overwhelmingly successful military campaign? Or visit the world's tallest mountain? Or survive a dragon-infested castle tower? Not often, so I needed to seize this opportunity while the invitation was still extended. So I got down on my stomach, prepared to commando-crawl into that small opening, when from behind me I heard the 10-year old, 16-star General (hey! Not your average military... this one is HIGHLY decorated!) exclaim
MOM!! Don't go all the way in there, you'll wreck it! You're too big!
So with a heavy sigh, I contented myself with snapping pictures from the opening. Then it occurred to me that all was not lost. I might now be considered too big to go into that most sacred of all places to a ten year old boy; but I was still considered important enough to show it to and share it with.
That's good enough for me.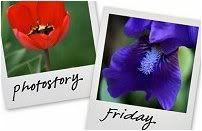 Hosted by Cecily and MamaGeek