I am an awesome mother. No, really. I can prove it.
Tonight was Jock's first game of the season. He was super stoked about it. He brought home his jersey last night, and even modeled it for me. He looked great! I simply can not believe my boy is growing up so stinkin' fast. It really feels like just a few short days ago that he was looking to me for everything. And he was always asking
Did you see that, mom?
And I always answered
Yep, baby. I saw it! Awesome!
(I am a product of the 80's. Awesome is a permanent part of my vocabulary.)
I must have eight zillion pictures of this kid at various stages of life. Some are in albums, a small number have been digital so are on the computer; but the vast majority are in shoe boxes, haphazardly arranged by his age. For almost every single time he'd ask
Did you see that, mom?
I've got some sort of photographic evidence.
That is, until he started high school. More specifically, started playing high school football. I've got pictures of his freshman baseball season last year, so apparently the issues lie just with football.
I present to you the ONLY photograph we have of high school football. It was taken tonight, and quite frankly it sucks. Our regular camera's batteries were discovered dead the other night, and I neglected to replace them. And I remembered that after I realized I had just forgotten the stupid thing tonight, anyway. So I had to resort to the cell phone camera. Which doesn't have the oomph to zoom from the stands to the field itself. Once again proving how I absolutely ROCK as a mother. *sigh*

We've still got the rest of the year for me to get it right, right?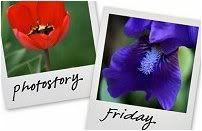 Hosted by Cecily and MamaGeek