Disclaimer: By the time we got home, I got everyone off to bed, got the pictures uploaded to the computer, and sat down to write this....it was too late to want to start editing pictures. So... you get them unedited. Live with it.
A couple of weeks ago, one of the parents of one of the boys on Coach and Bug's football team gave us tickets to tonight's Phoenix Coyotes hockey game against the Pittsburgh Penguins.
(I still find it funny that my first thought upon receiving these tickets wasn't how awesome it would be to be able to go to a hockey game again. No. My first thought was how awesome it would be to be able to tell
one of my favorite moms
about it. I wonder if I'm blogging too much?)
Knowing that we are a sports family, it should come as no great shock that we were all totally stoked to go to this game.
Well, we all were until we were driving to the arena tonight and Coach felt it was his sworn duty to make sure the boys watched the game at all times. Coach, in all his paternal wisdom, reminded the boys that hockey pucks have been known to fly over the plexiglass wall. And kill people. Kill them completely dead. (Did I mention that our seats were RIGHT BEHIND THE PENALTY BOX? No? Well, we were only five small rows off the ice! Awesome seats!!)
Bug spent most of the first period freaked out that the guys on the ice were going to just randomly slap that puck so hard it flew over and smacked him in the head. Great. Thanks, Dad. But then a hockey miracle happened. It started with Bug just sitting up on the edge of his seat watching the game. Then he started cheering a few individual players. Then he'd get really excited when the Coyotes did something great, and groan when the Penguins did. And then the Coyotes scored the first goal. That kid jumped up and cheered! By the second period, he'd started calling out to the ice, begging for some serious checking to happen, and everytime they's slam into the wall in front of us, I'd hear Yes! Awesome!
By the middle of the third period, he was standing up, turning to the crowd, and with his hands cupped around his mouth for maximum sound projection, was chanting
Let's Go Coyotes!
He was generously high-fiving everyone around us when our boys would score, and looking at me just long enough to remind me
This is AWESOME, Mom!
The truly awesome part? Watching this kid get so wrapped up in the game he forgot to worry about a Random Puck Death.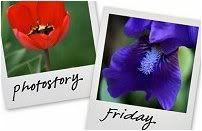 Hosted by Cecily and

MamaGeek