As Coach and I attempt to raise our boys into men we can be proud of, who --more importantly-- can be proud of themselves, I find myself asking What makes a man?
Is it having a job, working himself to the weariest point of his soul, to ensure he brings home a paycheck?
Is it fiddling with the cars, coaxing them with MacGuyver-like ingenuity to go just one more mile?
Is it taking what little free time he does have, and spending it teaching kids the games he loves so much, hoping to instill in at least one of them the same passion for the sport that he has?
Is it uncomplainingly wielding the vaccuum, day after day, to keep up with the dog hair? Making sure the dishes get done each day? Willingly making dinner so that his wife can help the kids with homework? Or how about helping out with homework himself?
There are so many things that make a man a good man. Respect for others, the ability to let other's disrespect roll off your back and not make you bitter, consistently doing the right thing not just the easiest thing. Holding your wife for just a minute longer at the end of the day, or pulling her close for a stolen snuggle moment in the morning before you both get out of bed. Being sure to tell your kids you love them every day.
My boys could not possibly have a better guide into manhood than the man they call Dad. And I am more thankful for that than he can possibly ever know.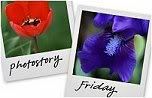 Hosted by Cecily and MamaGeek