If you're a fan of Little League Baseball, or maybe just a fan of pretty green grass, you've got to agree that that field up there? Is beautiful. Right? I mean, that dirt is just the perfect shade of red, and the grass really couldn't be any greener. However, when you've spent (and I'm seriously not exaggerating, here) no fewer than 6 hours a night, every night for the last week, at that beautiful ballpark.....well, it starts to lose some of it's appeal.
This week has been All-Star Tournament Week for our Little League district, and OUR Little League has been the host again this year. Which is great, truly it is. It's a huge boon for our little town, and is tremendously exciting for our ball players. Especially those who have made the All-Star team for the age group that we are hosting. (Which, thank goodness, Bug did! Otherwise? I don't think I would have seen my kid at all this week.) Our concession stand is doing some serious business, and that's wonderful for next season's registration rates. The biggest downside to all of this? I'm the Tournament Director.
So, why is this a downside? Well, I get to coordinate all the volunteers to keep score, pitch count and to work in the concession stand. I get to coordinate the set up of the park and the fields being used (and you should know that for some amazingly odd reason, most of these teams seem to think they should arrive two hours before game time. For the love of chocolate....why?!?!). It might help here to remind you that our Board of Directors actually has 13 people on it. Wanna know how many of them followed through on any offers to help me coordinate volunteers, organize each age group's team and paperwork, and who show up each afternoon to help me with any of the field prep? Two. Everyone else seems to be okay with showing up at game time or at some point after, and taking as much credit as the visiting teams want to dish out. Which is a lot, because I'm not too shy to admit that our fields are GORGEOUS, our concession stand ROCKS, and everything is running BEYOND SMOOTHLY.
And I'm going to do it all again when we host the STATE tournament in a month. Because apparently, I am just not in my right mind.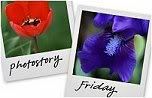 Hosted by Cecily and MamaGeek