I'll drive!
It's funny, but I distinctly remember those words coming out of my own mouth about 20 years ago, all the time. Any excuse I could find to get behind the wheel of the car, with my newly minted learner's permit--and later my freshly laminated driver's license--clutched in my hand, was one I'd eagerly latch onto. Mom needed toilet paper? Off to the corner convenience store I'd go. Baby brother needed to be picked up from daycare? Hop in the car and take off. Dad needed a few minutes of peace from the bickering? I'd load my brothers in the car and we'd head off to grab Slurpees.
These days, when I hear those words, they're coming from Jock. Coach remarks that he's down to just a couple of beers?
I'll drive....you know you really want 'em tonight!
I mention that a nice and cold carbonated beverage straight from the fountain sounds
good?
Hey mom.... I'll buy!
My kid has managed to one-up me, it appears. Where I was content just to take the reasons my parents handed me to drive, Jock apparently feels the need to bribe us to ensure success. Bribery? Well, until he figures out that we'll let him drive anyway? It's working for me.
Now, if only he'd stop telling me to put the camera away while he's driving......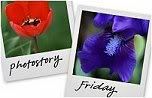 Hosted by Cecily and MamaGeek