Everyone's heard some story, somewhere, at some time in their lives about the athlete who wouldn't wash his socks or his underwear because the team was on a winning streak; or who wouldn't shave his beard so that he didn't slide into a slump. Or about the ones who have certain rituals before games. These athletes might be going to extremes sometimes, but all athletes will tell you if you ask them that they have something that they do or wear before each game. Its superstition at its finest. And everyone accepts this with a smile and a nod, just knowing that's the idiosyncrasy of an athlete.
But have you ever stopped to consider the superstitious quirks of these athletes' PARENTS?
If you've been around here for any length of time, you know by now that Jock plays on the high school football team. And you know that his team went undefeated his freshman year. And undefeated again his sophomore year. Well, we're at game 4 of his junior year tonight.*
There is a very simple reason for this win streak.
I wear the same shirt, the same socks, and even the same underwear (oh shush..... it's not like you didn't expect something like this! And I'm not going to show you THAT!) each week. And while my socks are just plain fun, the shirt and the underwear reflect the school colors. (Although, upon reflection, I'm not entirely sure why I needed to make sure my underwear was in school colors. Its really not like I EVER expect there to be an occasion where I need to flash those to show my school pride.)
There is simply no changing them now. Although I do actually launder them. I have to draw the line somewhere, you know?
*I'm writing this post before the game. As soon as I'm done, I'll be doing my Lucky Mascot Dance to do my part to ensure we continue on just like this. And no, there will be no video.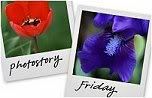 Hosted by
Cecily
and
Sports Mama
To play PhotoStory Friday, check this. Then copy the code below into your post and sign the Our Blurbs Guest List.
<center><font size="-2"><a href="http://whatworksforus.blogspot.com/2007/06/iphone.html" target="_blank" alt="Photostory Friday"><img src="http://i212.photobucket.com/albums/cc50/whatworksforus/pfws.jpg" alt="PhotoStory Friday" border="0"></a><br/>Hosted by <a href="http://mychaosmybliss.blogspot.com/" target="_blank">Cecily</a> and <a href="http://youdonthavetolikeme.blogspot.com/.com" target="_blank">Sports Mama</a><p/></font></center>