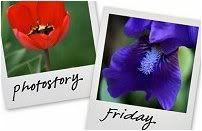 Hosted by Cecily and

MamaGeek
Back when I was young and mostly sane, I acquired one of these:
It was cute. It was cuddly. It smiled all the time. Everyone enjoyed having it around. Creatures with a high estrogen content loved holding it.
I would take it everywhere with me, like the perfect accessory that it seemed to be. While I had never really, truly believed I'd be fortunate enough to receive one of these, suddenly I couldn't imagine my life without it.
Almost a decade went by, and it seemed my taste in accessories was changing. I no longer was interested in toting around something that, in hindsight, was so incredibly high maintenance. No, my tastes were turning more towards a more independent version of what I once had. I wanted something that could both take care of itself on the minor things, but still needed me for the major things. So, I traded up and got myself one of these:
This model really could do so many things on its own that it now made my life a touch more convenient. No longer did I have to cart around accessories for my accessory. I was able to worry less about being solely responsible for its outward appearance, as the newer version had come equipped with at least a rudimentary sense of style and ability to coordinate itself.
What I didn't realize, either because I failed to read ahead in the owner's manual or because I conveniently skipped that chapter, was that the version I thought was so much newer would, in fact, require another upgrade. I wanted to be able to be constantly on the go. I wanted the ability to throw this accessory into situations where it would need to be able to run faster than anyone else's similar accessory. I wanted something that would constantly assert its independence and flaunt its awesomeness, seemingly always attracting the attention of others who would covet this for their own, knowing that what I was really looking at were potential candidates to take over the care and upkeep of this accessory when it became too mature for me to drag around with me everywhere I went. It took almost another decade to see just what my new lifestyle would require, but once I did, this is what I got:
Had I known in advance, all those many years ago, just what having a child would mean in the long term...... well, sometimes I wonder if I still would have done it. Would I still have set myself up for the frustration of watching girls throw themselves at my son, happy with whatever attention he deigns to give them? Would I have set myself up for the heartache that is sure to come in what I'm convinced will be a very short three years when he takes off on his own for the first time?
Yeah. I'm pretty sure I would have.