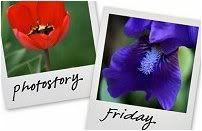 Hosted by Cecily and MamaGeek
The backpack.
Such an innocent school item, right? Most kids don't dread them, and I've never known a parent to cringe at the sight of them. Oh sure.... parents who are dealing with them for the first time might get a little teary. Parents who are dealing with them for the last time might get a little nostalgic. But no one is actually threatened with an overwhelming and potentially debilitating fear of them, right?
Wrong.
Every fall, Jock starts out with an empty backpack. He's ok with that. As the school year progresses, and that backpack gets heavier, it seems his heart does as well. My boy, as gifted as he is athletically.... well, he struggles tremendously academically. I realize this might not come as a surprise to many of you. It doesn't to us, and while that makes me feel like something of a bad parent to admit that, I'm being honest. He's an amazing kid. He's sweet. Polite. Respectful. Super cute. Generous with his time, energies, emotions and whatever money is in his pocket at any given time. And he's got the biggest heart of gold I've ever seen. It's no secret that I adore this kid. But he will never be at the top of his class. All we have ever demanded of him is that while he might not bring home straight A's, he is absolutely expected to give the effort worthy of straight A's. Coach and I will accept nothing less than the same effort in the classroom as he gives on the field. Period. We're lucky. Jock demands that same effort of himself.
That's why that backpack gets so heavy for him. It begins to weigh on him emotionally, mentally and psychologically. And the heavier that backpack gets for him, the heavier it gets for me. For every weight in his heart, mine breaks a little more. I don't know how to help him lighten that load. I can take the books out, but I can't do the work for him.
(Well, I guess I could. But I won't. And what does it say about me that sticking to my guns on that issue is almost as hard on me as watching him struggle??)
You wouldn't think a backpack would have much of a story to tell, would you? You'd be wrong. That backpack tells the story, year after year, of my son's determination. Of his character. Of his strength.
That backpack tells the story of my son.