Being the parent of a teenager is a job that can't always be described as easy. There are times you forget how fun it can be, and lose sight of how rewarding it truly is.

There are the struggles over homework.
There are the many, many, many requests to give in to one thing or another.
There is the steady growing older that they do, never realizing that it ages their parents as well.
There can be the endless rounds of sports practices and games, always feeling like you're getting home just to leave again.
But when you see them grin at you.....
And watch how they treat other people in their lives...
You really start to see just what it is about them that will lead to you gaining a daughter-in-law in about ten to fifteen years.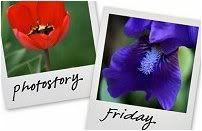 Hosted by Cecily and MamaGeek