Take a look at these grades:
72.8% C- Algebra 1
89.1% B World Studies
100.0% A+ Advanced Weights
70.3% C- Biology
84.1% B Spanish 1
82.1% B- English 10
First, I want to say how awesome I think it is that I get these emailed to me every day.
Every.Day.
These came today. I can keep constant tabs on this kid's grades, and I can skip the middle man. No more trusting that he's telling me the entire truth, and waiting to see if he's right at midterms and final report cards. Gone are the days when he could tell me he had all of his homework turned in, since this tells me exactly what the assignments were, and which ones may be missing. There is no more distracting me from the question, by talking about football or baseball practice. Oh no. Everything's there for me to see, and I even get notes from the teachers and direct links to their email addresses for my convenience. I love it.
But what I love even more than all of that are the actual grades. Look at those grades, people!
Now, I realize that some of you are maybe sitting there, wondering why on earth I'm so freaking ecstatic over those grades. After all, there's only one A in the bunch, and its his weights class, so that A is all but guaranteed. I know, I know. Most parents don't get excited and proud over C's and B's. But those of you who've been with me for a while will remember that my boy struggles, and
struggles hard
, with these classes. Of those five other classes, four of them are a
constant struggle
for him. In fact, the only time he sees A's in those classes are the first few days of a new semester. But, oh! How he works. He pushes and pushes and pushes himself to do better. Not just to stay eligible for the team, but because he's smart enough to know that all the talent in the world won't get you anywhere if you can't back it up with something else. He knows he's got to prove that he's worth the chance a college might extend to him.
And I know that all of this studying is reaching something else in him; something beyond the athlete. How do I know this? Because of this:
A few days ago, he went with me to a Little League board meeting being held at the local library. While there, he went and got himself his own library card and checked out a book. Not a book about sports, although I wouldn't question that or think that was a bad idea. Not a study guide book. Not even a small, less than 200 page book. No. He checked out a fairly recent release by Steven King. Hardcover, and just about three or four inches thick. And then he sat his little self down and started reading. He didn't even wait until we got home and he could hide in his room, where no one ever witnesses anything. So naturally I pulled out my
(admittedly fairly craptastic quality)
camera phone, and snapped the moment for proof. Right after I stopped grinning like a fool; and I suspect I might have had tears in my eyes, I'm not sure.
Reminding me once again why I think it's all worth it. I really love my kids. And I'm so proud of them.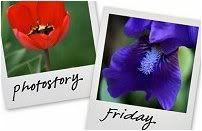 Hosted by Cecily and MamaGeek