Raise your hand if you remember the dances you went to in Junior High or Middle School. C'mon, don't be shy. I know I'm not the only one. The dark gymnasium. The tables in along the bleachers where there were snacks, drinks and the poor teachers who got suckered....er, volunteered as chaperones. The boys at one end, dressed in their coolest jean jackets with the collars popped up; the girls at the other, with those oh-so-cool mini-skirts and leggings. Billy Idol's "Mony Mony" playing so loud you couldn't hear a thing, except when everyone sang along with the chorus. (And added in those "extra" chorus within a chorus lines!) Ahh.... now you can see it all, right? It was 1980-something.
That scene? Is not just something I experienced 20 plus years ago. No. It's also something Bug got to experience tonight. The boys were in jeans and shirts with popped up collars; the girls were wearing mini-skirts and leggings. And according to Bug, some of the girls were even wearing "those leg heater things".
When I was his age, it was just a dance. Tonight, it was an 80's Revival.

Revival, people. As one of my friends from high school asked, Is it sad that we're now old enough that our memories have become a Theme for our kids?

Although I suppose it's a good thing that it's not an actual comeback. Those leg heaters would be uncomfortable here in the desert.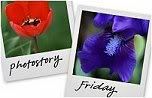 Hosted by Cecily and Izzy 'N Emmy