I have spent a lot of years trying to find my "happy". It's taken me that long to figure out that "happy" isn't a destination; it's a journey. And like any journey, it can suck or it can rock. My struggle, as a lot of you know, is to constantly focus on making my journey rock.
Focus is something that doesn't just happen. Focus generally needs a facilitator. Something concrete to concentrate on, not just an abstract. The entire time I've been discovering that "happy" isn't a destination, I've been searching for my focus. In the meantime, my journey was sucking; and sucking hard. Before too long, I found myself getting too caught up in the
search for
a focus. I was completely losing sight of what I was doing on my journey.
I was busy making sure my boys would be able to look back on
their
life journeys and remember that I had been there. At
every game
, every special event, every
random moment
miraculously caught and preserved.
I was busy
helping with English papers
, and planning birthday parties.
I was busy going back and forth between letting them
make their own mistakes
, and guiding my children through important life decisions,
where and whenever they felt comfortable enough
to open up and talk.
And that's when it hit me. That's when I realized I had found my focus; my trick for making sure my journey rocks. This whole motherhood thing, these two amazing boys that God felt could teach me something while I was here; they were my focus.
They ARE my focus. And knowing that, remembering that, makes my journey of happiness totally rock.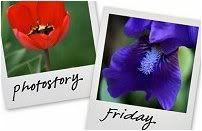 Hosted by Cecily and MamaGeek